CONWAY — Barbershops and beauty salons have long been places for lively conversation and uninhabited wisecracking. Robert Harling's "Steel Magnolias," which is being presented by M&D at the Eastern Slope Inn Playhouse in North Conway, Thursday through Sunday for the next three weeks, uses this as the backdrop to tell a fictionalized version of his sister's struggle with diabetes.
All the play's action takes place at Truvy's Beauty Parlor, a salon in Louisiana where everyone has a quick-witted, sassy one-liner at the ready. It is as if the staff of a late night talk show is in the backroom feeding them material.
The parlor is populated by a motley crew of women. Truvy (Alexandra Bradford) is the big-hearted owner of the parlor; Annelle (Kaitlyn Marshall) is Truvy's new socially awkward assistant; Clairee (Karen Gustafson) is the wealthy widow of the former mayor; Ouiser (Francesca Jellison) is the local curmudgeon; Shelby (Hannah-Jo Weisberg) is the bubbly, pink-obsessed girl next door; and M'Lynn (Christine Thompson) is Shelby's doting, over-protective mother.
Male characters are mentioned but not seen. The focus is squarely on the woman. The 1989 film adaptation starring Sally Fields, Shirley MacLaine, Julia Roberts, Daryl Hannah and Olympia Dukakis would change this aspect and give scenes to the unseen male characters.
The plot centers around Shelby's marriage and the complications of her becoming pregnant. There are also subplots involving Annelle's transformation from a withdrawn girl with a dark past to a born-again Christian, and Clairee finding herself and culture in the wake of her husband's death. Gustafson gives Clairee's discovery of theater an amusingly meta quality.
The tagline for the film was "The funniest movie ever to make you cry." While that is a slight exaggeration, it is a fair description of both the play and film. And therein lies the problem with M&D's production: It isn't particularly funny, but I say this with an asterisk.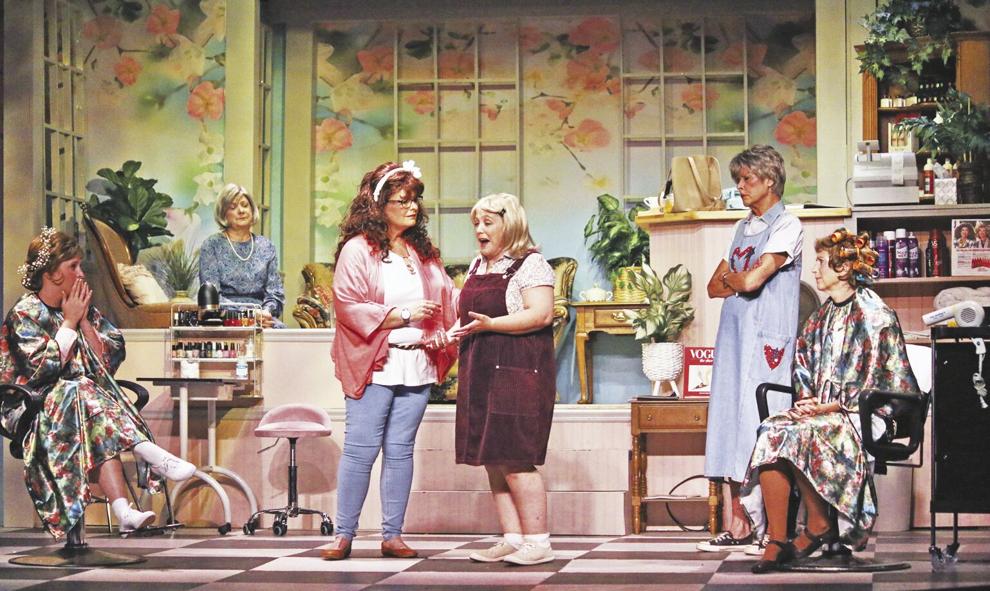 As is often the case with the plays I review, I saw the final dress rehearsal. Generally, these rehearsals only have a handful of people in the audience. In the case of "Steel Magnolias," there were only three other people present. With comedy, this can be a slight disadvantage.
It isn't a critic's job to review the audience, but an audience can have a profound influence on a performance, particularly with comedy. The cast can feed off the energy of an audience and the audience can feed off of each other. Laughter is infectious. So, it is possible that the humor in this production will play better with an audience. I chuckled a few times, but never guffawed.
It is also possible that this is by design, and director Christopher Bellis is leaning more toward the drama of the piece than the comedy, because the more emotional, heartfelt material is much better.
The show is well-cast. There isn't a weak actor in the bunch. These all feel like real women with long-standing relationships. It helps that they have a believable environment in which to perform. Set designer Deb Jasien has created an impressive re-creation of a beauty parlor. There's also a stunning collection of wigs provided by Paula Jones that help with the characterizations.
Weisberg is a standout. She brings an effervescent charm and resilient optimism to Shelby, and brightens every scene she is in. Weisberg also has a believable mother-daughter relationship with Thompson. They have a combative relationship, with Shelby wanting to live life to the fullest, while M'Lynn wants her to air on the side of caution. Their barbed exchanges ring true to the way mothers and daughters argue.
Marshall brings an openness and sincerity to Annelle that is quite affecting, especially in the second act when things take a tragic turn. Thompson also gives an honest portrayal of grief that is moving. There's a good deal of genuine warmth in the way the ladies of the parlor circle around here.
The effectiveness of these dramatic moments could also be why when the script pivots back into shtick that it doesn't quite hit. Walking the line between comedy and drama is a delicate balance. It is possible that as the run of the show continues that balance will become more properly calibrated.
"Steel Magnolias" is a terrific showcase for the women in the cast and worth seeing for their fine work.
For tickets or more information, go to mdplayhouse.com or call (603) 733-5275.