As with everything, the pandemic has had a profound effect on the film industry. The theatrical release of new films from the major studios has been on hold since March.
New films, like "Scoob," "Capone," and "Valley Girl," have been debuting on video-on-demand (VOD) services and other films set for theatrical release, such as "Artemis Fowl," are going direct to streaming services.
The plus side of this is that it does allow for the discovery of films that have otherwise gone under the radar. Smaller films are getting a chance to shine without the onslaught of big-budget blockbusters storming the movie theaters.
One such film is the 2018 documentary "Kate Nash: Underestimate the Girl," which is available today on Alamo On Demand, the new VOD service from the Alamo Drafthouse Cinema chain. The film, which focuses on musician Nash's trials and tribulations navigating the music industry, is available for a $9.99 rental, which includes an invite to a livestream performance and Q&A with Nash at 9 p.m. on May 23.
Nash, who had a platinum-selling debut album in her home country of England in 2007, is probably best-known to American audiences as Britannica on the Netflix series "GLOW."
As a fan of Brit pop, her song "Foundations" came to my attention back in 2007, as it had a similar sound to Lily Allen, who I was already a fan of.
Like Allen, Nash built an audience via MySpace, which, for a brief period, was a powerful tool for musicians to get discovered. Nash was signed by Universal and the then 20-year-old was thrust into the public eye and sent on a massive European tour.
A follow-up album in 2010 offered more of the sunny pop sound that first found her success, but as Allmusic.com noted in its review, the aim of the record "seems to be simply getting Kate Nash airplay without worrying overly much about a musical backing that suits her songwriting."
Feeling uncomfortable with her celebrity status and wanting to have a more authentic artistic voice, Nash moved into a more punk-influenced sound for her third album "Girl Talk." The choice made sense, as her lyrics are often exposed, vulnerable and blunt, but it wasn't what Universal wanted, and the label dropped her.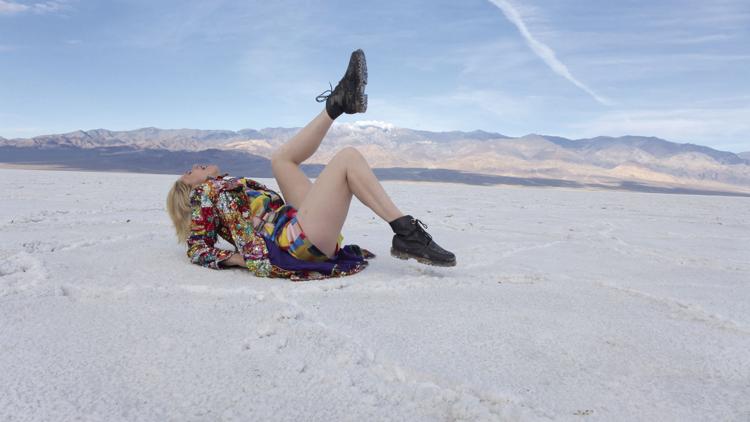 Director Amy Goldstein explores the aftermath of Nash losing the support of a major record label. Nash released "Girl Talk" and funded a tour herself. She was on the road for two years with little to show for it. A move to Los Angeles to record a fourth album and a new manager offered hope, but that turned sour when the manager defrauded her.
Similar to the Netflix documentaries on Lady Gaga and Taylor Swift, "Underestimate the Girl" is more of a puff piece than an expose. These films are meant to make their subjects look good. Like so many documentaries of this ilk, Goldstein uses a lot of handheld phone footage mixed with more professionally shot material and archival footage from various points in Nash's life. In a nice touch, Goldstein has Nash's lyrics appear on screen in imaginative ways, including on buildings and along highways.
While there's little groundbreaking here in terms of filmmaking, what is refreshing is how vulnerable and direct Nash is as a subject. You feel for her situation. Her sense of betrayal and desire to not become hardened by it is relatable.
Goldstein and Nash touch upon the idea that the music industry isn't kind to female artists. The industry wants to package them a certain way, and those that don't fit the mold are tossed aside. More of this could have been explored.
There's a painful scene in which Nash goes into re-record a vocal for the song "Life in Pink" to make it sound prettier and less raw, in hopes that it would appeal more to a record executive. As she struggles to prettify a specific line, it is clear that her heart isn't in it.
At one point, Nash states that she fears she doesn't know how to do anything other than be a musician, and she wonders if she could survive without it. I often ponder this myself as a journalist. "Do I know how to do anything else?" It is a concern that I am sure has gripped many people with a specific skill set.
With an immensely appealing personality, Nash is easy to root for. The rise of crowdfunding and social media has allowed artists to be less reliant on the old-guard music industry. This is the path Nash ultimately takes. When she books "GLOW" and uses Kickstarter to fund her fourth album, these triumphs are genuinely happy moments.
For those unfamiliar with Nash, this is a nice introduction that is full of her music. It would be perfectly paired with a binge of "GLOW."