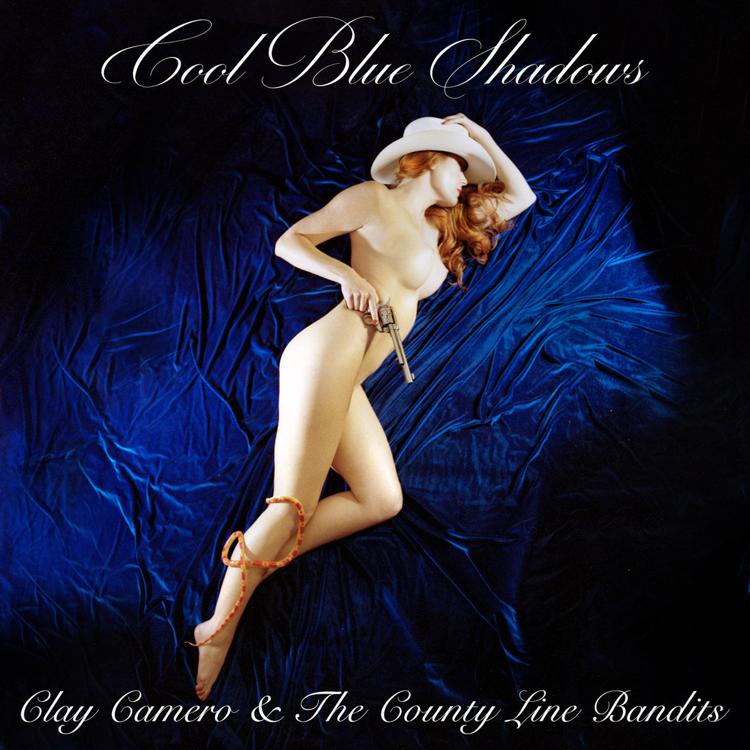 There's something inherently mysterious about womanhood. As a woman, I feel it, I know it intimately, and it still seems to defy me. Emotions arise that I had no idea belonged to me. Shadow sides ebb and flow alongside very pragmatic facets of my day to day life, messing with me like some kind of demon hellbent on exposing my most intimate fears and fantasies to my coworkers or the young man tasked with ringing up my groceries. The same things could be said about nature, particularly here in Maine, where it often seems like Mother Earth has mood swings and spiritual fluctuations that put even the most powerful matriarch to shame. Enigmatic, feral and powerful beyond measure, it is this oneness of woman and nature through which Clay Camero and the County Line Bandits' EP Cool Blue Shadows embarks on its vision quest.  
Clare Hubbard, who has also played under the monikers Caethua, Sports, CAMMO, and (as a duo) Ancestral Diet, inhabits Clay Camero as a ghost might inhabit a sheet and explore the halls of a long abandoned, dilapidated barn. Her County Line Bandits are a brilliant chorus of appropriately-named support on this record, with Colbra White on guitar and vocals, Grey Saguaro on guitar and vocals, Dylan Kumnick on drums, Bobby New on pedal steel, Musky Pockets on bass and Tommy Hellfingers on keys, while Hubbard writes, plays guitar and sings lead. Cool Blue Shadows is a simply gorgeous, engaging five-song EP, as precise in its looseness as it is unabashed about its own coyness and curiosity.
Upon first introduction, Cool Blue Shadows is a country record. Weathered guitars, smooth pedal steel and languishing drums establish a sense of place and time. The title track, first on the record, offers our inflection point into Hubbard's world: newly awake, by the side of the road, early in the morning, she sings with a huskiness that gives way to delicacy with ethereal ease. No mere mortal woman is at the heart of this story; we're meant to know that this journey will take us to unseen realms. 
"Battle of the Trees" gives us a taste of outlaw country with bent riffs and twang processed through all kinds of filters, creating emotional distance. Hubbard's voice takes on a sharper edge here, reminding me of Dolores O'Riordan or Margo Timmins' interplay of smooth with shrill. Distorted time signatures and metaphors about nature and body as vessels to receive love, as tools used to express love, demonstrate Hubbard's concept of femininity as shifting to suit need and purpose. It's a powerful meditation on the relationship between the physical and metaphysical. 
"Left for Dead" and "Dallas" dance a little closer to a traditional country and blues style, though it's a new Hubbard each time a song begins — she is a master at using her voice theatrically, which you've heard before if you have listened to her recordings as Caethua. The absolutely stellar ensemble band shines even brighter on these tracks as they engage in some bawdy foot stomping, no-shits-given, dark southern rock. I can't quite put my finger on what it is that keeps this band from falling into cliches, but even when common tropes of country and western show up, they see it coming and head 'em off with a muscular unruliness that complements the gentle-yet-intimidating power of Hubbard's songwriting and performance.
Quiet and gut-wrenching, "Jesse" finishes up the album. Capping off the themes of death and dying on the record, none of us have ever met Jesse, not even the narrator; but we hear of his death almost as if he were legend, an ancient sea shanty or miner's ballad drowned note by note in the current of the Rio Grande. Though I love how the song ends with the simple refrain of the titular name, I really long for some lingering ambience or even just a Lynchian rumble to close the record. It's the one awkward spot in an otherwise very natural narrative.   
From all appearances, this record was recorded and mixed by two of the band members, and they did an absolutely fantastic job. Cool Blue Shadows is richly textured, it has depth, it shines, it weeps, it breathes and it darts in and out of your ears like a tree sprite drunk on absinthe, or maybe Allen's Coffee Brandy (this is Maine, after all). It's not perfect, I want to get closer to Hubbard's voice in a lot of places, particularly when she stacks her vocal tracks and sends things through loops and sequencers — the analog here is more comfortable than the digital. It's a little raw, like the songs themselves. I can't recommend this EP enough, though. I've been listening to it for about a week and it has infected me and pushed me to examine my own femininity, and I suspect it will deliver new revelations as I lose myself in it for the rest of the summer.
Cool Blue Shadows by Clay Camero & the Country Line Bandits | release show July 27 with Janane Tripp + Video Nasties | Fri 8 pm | The Apohadion Theater, 107 Hanover St., Portland | $10 | https://claycamero.bandcamp.com