The rapid growth characterizing the dining scene in Portland these past few years has been met with mixed opinion. For every major market listicle gushing about where you should be downing oysters this month, there are at least a handful of disenfranchised Portlanders lamenting the days when a sandwich and a beer didn't cost $22 or require a two-hour wait to enjoy. And they'd be right to feel this way — these places are disappearing not just here, but in cities across the country similarly propped up by the latest dining trends and flavors of the week.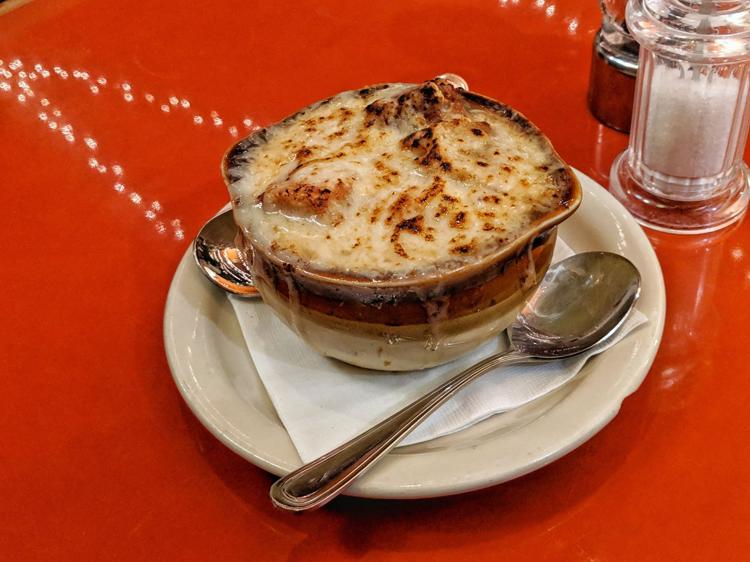 This is one of many reasons to be grateful for the persistence of Bonobo. Now in its 11th year, the West End staple on the corner of Pine and Brackett still churns out an impressive array of wood-fired pizzas seven nights a week, with a cozy neighborhood atmosphere and an approachable price point to boot. It is, in a way, a reminder of what things used to be like around here.
That's not to say Bonobo offers a benchmark dining experience you'll hang onto for the rest of your life. You might, though — perhaps in the form of a casual first date that leads to a long partnership (there are few spots in town better suited to "date night"). Bonobo instead provides a warm, convivial space in which to catch up with a friend or neighbor over what is still some of the better pizza available in Southern Maine.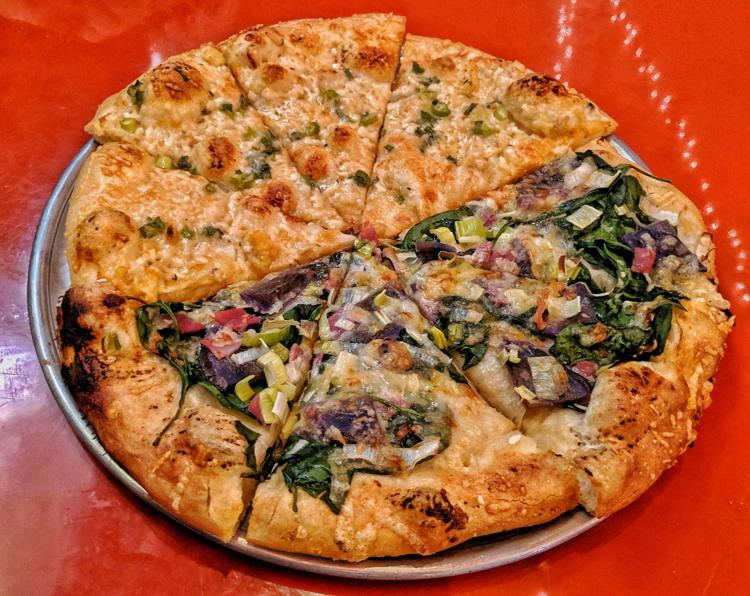 Let's talk about that pizza. Fired in a wood oven at lower temperatures than the standard 700-800°F range, the dough gets a bit more time to set before exiting the heat, resulting in a thin, slightly chewy and pleasantly sweet crust with just a touch of smoke and sourness to it. Perhaps most akin to the end product served at Lazzari, the pizza at Bonobo — more restrained in toppings and thus lighter in feel — is unique to itself and without any true analogs in the area
There are 17 different preparations to choose from on any given day, ranging from the expected to what some might call the outlandish. Certain examples in the latter category stand out as being what makes Bonobo unique and are not to be missed. Jerk chicken on a pizza (The Marley) may sound like a reason to get up and leave, but with a glass of the house Barbera on me says it's one of the tastiest bites you'll find around town. The Gruyere drops potatoes, spinach, leeks and prosciutto atop a gooey quagmire of gruyere and parm, rounded out with a rich and potent garlic butter. It is a kaleidoscope of colors, textures and flavors that'll have you wondering where this particular breed of pizza has been all your life.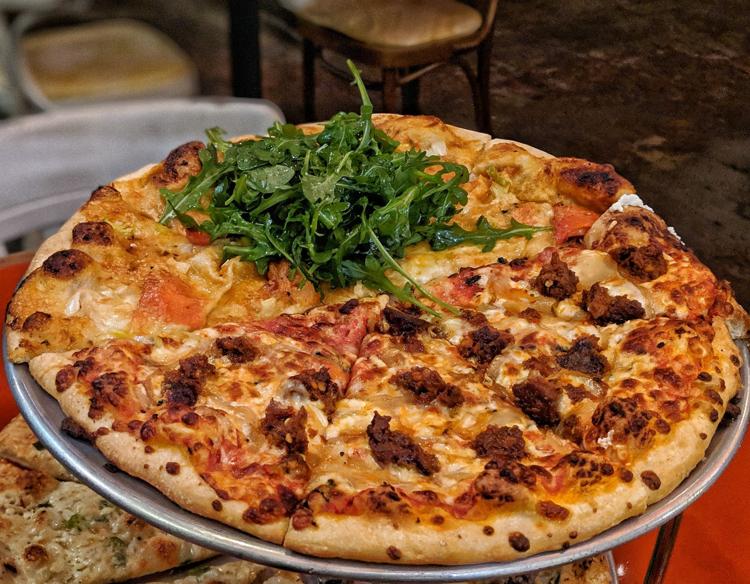 Assertive dairy also takes center-stage on The Taleggio, combining the eponymous cheese with smoked tomatoes, leeks and a crown of fresh arugula for a deeply satisfying balance of smoke and salt. My personal favorite pie at Bonobo, though — The Farm — happens to be more on the traditional side. Pork sausage, roasted onions, oregano and red sauce may sound a bit vanilla on paper compared to the rest of the menu, but The Farm exudes a deep range of flavors that I haven't found elsewhere on pizza in Maine. If you order just one pie, let this be it.   
The only prep I've tried that hasn't hit the mark for me has been the Ocean, which is essentially Bonobo's take on white clam pizza. More akin to a clam version of shrimp toast in its minimalism, it's not distasteful, but does border on dry and generally feels as if it's missing "something." Suffice to say, there are plenty of other options to choose from.  
For the decision-weary, an extra dollar yields the option to combine two specialty pizzas in the form of one ½ and ½ pizza. It's a great way to work through the relatively extensive menu, and paired with a clean and simple house salad of romaine, arugula, spinach and endive leaves with sweet pickled cukes and lemon vinaigrette, it makes for a truly satisfying, surprisingly inexpensive meal for two. A rib-sticking French onion soup to start and cioccolata with house-made whipped cream for dessert will round things out for the ultra-hungry — you can always bring home leftovers.    
Bonobo has recently changed hands after being sold earlier this year to new owners Dominique Gonzalez and Justin Grey, who — in a letter of intent to the city from May of this year — stated an aim to continue operations as usual for a seamless transition. To their testament, you'd never know anything has changed without asking. Bonobo continues to provide a pure and unpretentious dining experience accentuated by excellent value. It's a glimpse ever so slightly back in time, and one in which those who miss the "old" Portland will no doubt find some comfort.
__
Bonobo | 46 Pine St, Portland | Mon-Thu 4-9:30 pm; Fri-Sat 11:30 am-9:30 pm; Sun 11:30 am-9 pm | www.bonobopizza.com