Of all the cuisines to have emerged, developed and propagated throughout the world, it is the French that most often get associated with culinary arts. Chalk it up to stereotypes, countless televised hours of Julia Child on The French Chef, groupthink or any combination of the above — we are taught and taught early that French cooking is the pinnacle; the mountain top.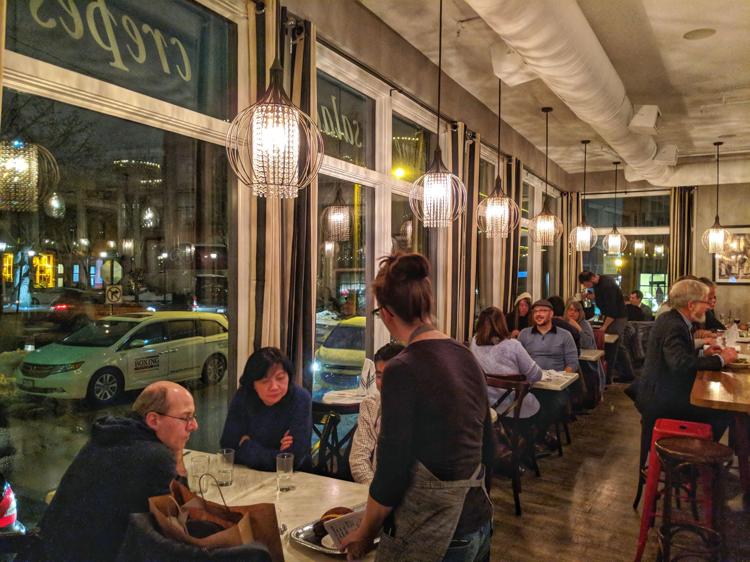 While the reality is that countless cultures place just as much emphasis on carefully piecing together the perfect meal as the French, there's a sliver of truth to the abundant clichés. French cuisine is technique-driven, often opulent (pressed duck, anyone?) and right at home when framed by a crisp white linen tablecloth. Rich with history and heavily romanticised, it's also extraordinarily easy to fall in love with — especially for those who like to cook. Building a Hollandaise stable enough to not break once plated for the first time is a point of epiphany to the aspiring chef, and there are countless moments like these in French cooking.
As often as French food is associated with fine-dining establishments à la Régis et Jacques Marcon in St Bonnet-Le-Froid, France or New York City's Jean-Georges—where meals can easily extend into the range of $200/person—it is bistro food that defines the country, particularly its capital, Paris. Often serving simplified menus of home-cooked staples like cassoulet, salad Lyonnaise and assorted terrines among many other classic dishes, the typical bistro sits somewhere between haute cuisine and what Americans might consider "pub food." Prices are reasonable to moderate, dress is casual — you get the idea.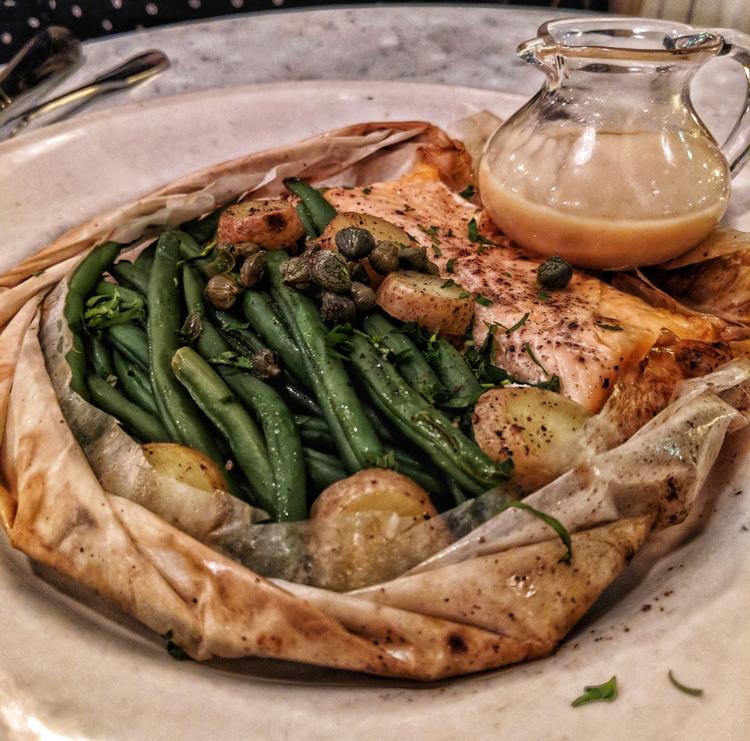 Enter Petite Jacqueline, an homage to the classic Parisian bistro that has been introducing Portlanders to French cooking for nearly seven years and counting.
Originally opened in May of 2011 by restaurateurs Steve & Michelle Corry as a casual alternative to their more upscale restaurant, Five Fifty-Five, Petite Jacqueline has since relocated from Longfellow Square to Market St. and undergone some staff changes, including a new head chef in Nick Renzi (the Corrys still own and operate PJ). Aside from trading-in tile for hardwood flooring and moving to a much more centralized location, however, very little has changed about Petite Jacqueline since the restaurant first hit its stride a handful of years ago. The room still feels transportive to a degree, and the food is still dependable.
That is to say that there are some deeply satisfying dishes on the menu, as well as some that don't fully convert.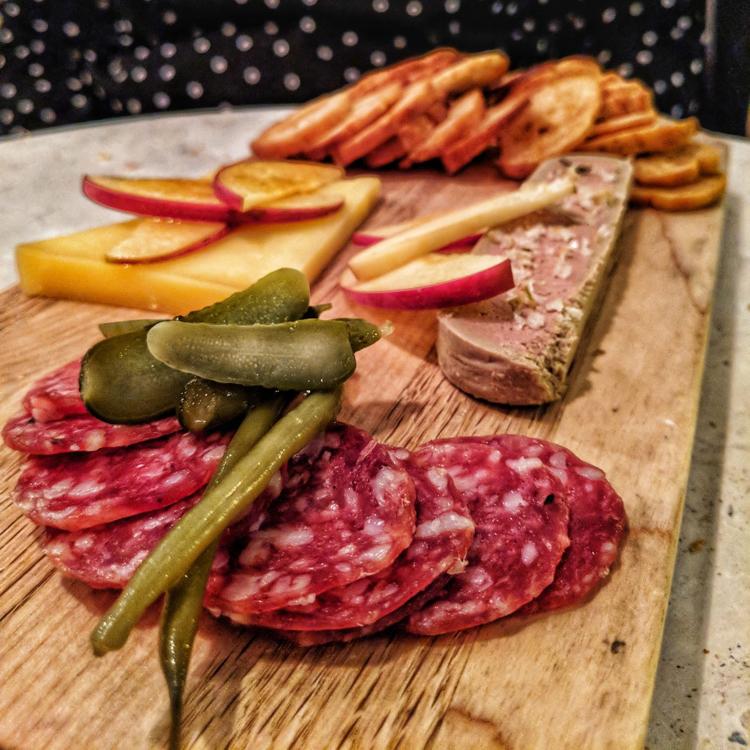 The opening portion of Petite's menu allows for a "build your own" approach to a charcuterie and cheese board. Mild, cellar-aged comte with brûléed apple pairs beautifully with a balanced and earthy house-made duck liver terrine — saucisson sec and dilly beans round out a satisfying start to the meal. French onion soup follows suit with a heady depth of flavor to its broth, coming together in all its cheesy, ooey-gooey glory midway through while maintaining a nice degree of acidity. Deviled eggs, on the other hand, are a disappointing starter in their mustard-heavy leanings — a side of herbed olives would be a much better transition point.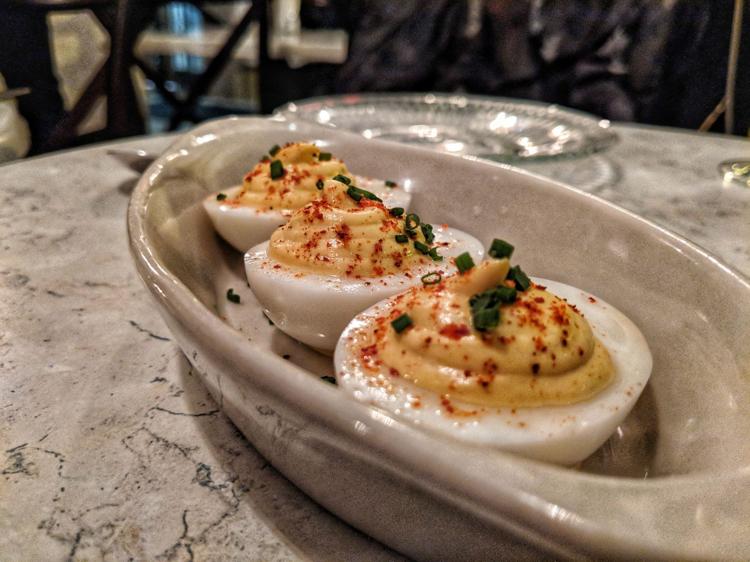 Cocktails at Petite Jacqueline are surprisingly good and priced fairly at $9 to 12. The M' Smith combines Bulleit Rye, Dry Curacao, Fernet-Branca and honeyed chamomile for a unique take on the classic negroni, ideal for giving pause midway through the meal. On the more refreshing end of the spectrum sits the Lazy Susan, a blend of gin, suze and lillet blanc that pairs nicely with the menu's lighter fare.
No dish serves as a litmus test for bistro quality quite as much as steak frites, and Petite Jacqueline knocks it out of the park. A smokey, perfectly cooked and sizable portion of hanger steak is topped with a decadent slice of compound butter and surrounded by a pile of crispy fries drizzled with aioli. It's hands-down one of the best examples of steak frites in Portland and a requisite order for first-timers.
Less impressive this time around was the poisson en papillote. Arctic char, haricot vert, potatoes and capers are cooked and served in parchment paper alongside a carafe of beurre blanc for finishing the dish at the table. While attractive, the fish lacks the effortlessly crisp skin and balance of the excellent arctic char amandine prep it replaced on the menu at some point in the past year and becomes difficult to eat once bits and pieces get lost in the parchment.
A dessert of chocolate pot de crème, albeit a bit granular in texture, is rich in flavor, buoyant and garnished with flecks of sea salt for a pleasant end to the meal.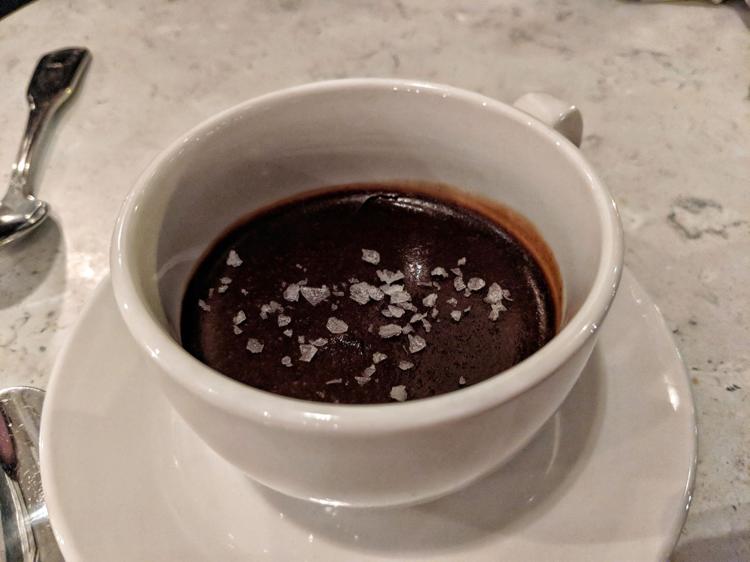 For many diners, a meal at Petite Jacqueline will serve as their first foray into bistro-style French cuisine. To that extent, one could argue that the restaurant is right on-track and poised for years of continued success, providing a strong introduction to staple dishes despite some minor flaws in execution. There are certainly more creative takes on French food being cooked and served throughout town at similar price points, but sometimes you've just got to stick with the classics.
Petite Jacqueline | 46 Market St, Portland | Mon-Thurs 11:30 am-2:30 pm & 5-9:30 pm; Fri 11:30 am-2:30 pm & 5-10:30 pm; Sat 9 am-2:30 pm; 5-10:30 pm; Sun 9 am-2:30 pm; 5-9:30 pm | www.bistropj.com