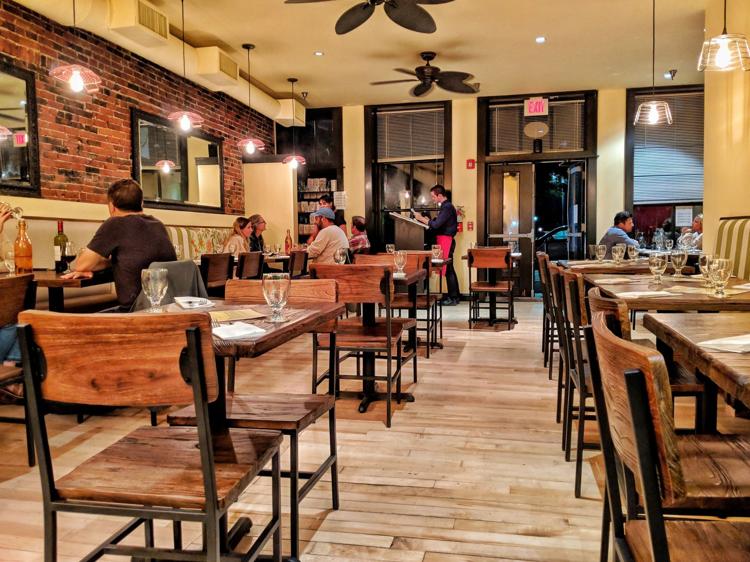 Despite playing host to a food scene that's become one of the city's more prominent exports as of late, pizza has never been a strong point for Portland. Aside from quirky outliers a la Flatbread and Bonobo, area pie existed for years in a state of greasy, uninspired limbo until OTTO Pizza — a beacon of light at the time — opened its first shop at 576 Congress St. in 2009. OTTO would go on to hold a monopoly on the unofficial accolade of "Pretty Good for Portland" for nearly a decade, despite being practically the only player in the game.
Like much else around here, things have changed when it comes to the holy trinity of dough, sauce and cheese. The opening of Lazzari in May of last year joined and perhaps even removed OTTO from the top ranks for unique, yet familiar pie, while Belleville — a small bakery on Munjoy Hill — quietly gave Roman pizza al taglio its Portland debut last October. Now, the city has an outpost for Northern Italian cuisine via the recently opened Pizzarino, where Neapolitan-style pizza is the focal point.
Located at 505 Fore St. (most recently home to the now-closed contemporary Mexican eatery Zapoteca), Pizzarino is just steps away from Paciarino, an understated temple of homemade pasta opened in 2008 by Milano transplants Fabiana de Savino and Enrico Barbiero. This is no coincidence — Barbiero is co-owner of Pizzarino along with two business partners who are also from Milan. While the focus at Paciarino is on delicate ribbon-like pastas and bubbly ravioli,
Pizzarino highlights Northern Italian dishes such as arancini, gnocchi, insalata and — of course — impossibly light and airy pizza.
For the uninitiated, the style of pizza served at Pizzarino may come as somewhat of a surprise once it hits the table. Cooked in a wood-fired oven capable of hitting temperatures which border on 1,000°F, each pizza takes mere minutes to reach its desired doneness, leaving toppings largely unadulterated by long heat exposure times while providing a nice exterior char to the crust. The finished product arrives without having been sliced — unfamiliar territory for American diners while being the norm in Northern Italy. Thanks to a special blend of imported wheat and wholemeal flours, the dough itself tears effortlessly and folds upon itself without resistance, resulting in what may be the antithesis of New York-style pizza.
Simplicity reigns supreme at Pizzarino, where a Margherita pizza (mozzarella, tomato sauce, extra virgin olive oil, basil) stole the show during a recent visit. Bright and pleasantly acidic with a gentle sweetness, the sauce used as a base for each pizza on the menu is lively and inviting — a welcomed shift away from the deeply caramelized, almost ketchup-like product found on so many pies in southern Maine. The sauce provides much-needed contrast on the almost-too-salty Capricciosa pizza, which layers mushrooms, artichokes and prosciutto cotto ham on the same framework as the Margherita. It is divine and worth the price of admission on its own.
Despite a focus on pizza, the menu at Pizzarino features a few standout items that aren't to be overlooked, such as a rich (and giant) order of arancini di riso al pomodoro. Pillowy and faintly perfumed with saffron, each bite brings rushes of comfort-inducing flavors and textures, again set off by that beautiful red sauce. The house insalata Milano brings to mind classic American-Italian dining, served in a shiny metal bowl and showered in a tangy vinaigrette. A dessert of Tiramisu is the best in the area, dusted with flurries of cocoa powder and visually recalling the rugged landscape of the Italian Alps.
To drink? A glass of Moretti to help prevent fermentation from restarting within the stomach due to the presence of yeast in the pizza — just one of many fun facts you'll learn from the menu's extensive, two-page "About Us" section that you shouldn't leave without reading in full.
Just as with the Neapolitan-style pie at midcoast Maine's excellent Meanwhile in Belfast, Pizzarino's flagship product isn't for everyone. It is, however, a much-needed additional option in a city that has finally shed its reputation as a black hole for quality pizza. For those who can keep an open mind going in, the rewards are there for the taking.
Pizzarino | 505 Fore St, Portland | 11:30 am-2 pm; 4:30-9:30 pm | www.pizzarino.us