Johanna Harriman Young, 63, of Washington, N.H., died Aug. 9, 2021, from complications of leukemia. Born in Concord, N.H., on April 20, 1958, she was the youngest daughter of Mary Clemewell Harriman Young and Robert Charles Young.She leaves behind her loving husband, Lindley Rankine, and her beloved cat, Benita.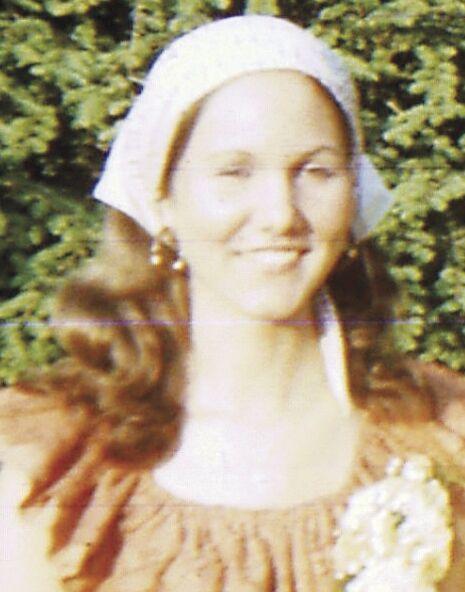 Johanna and her family moved to rural Bolton, Conn., in 1960, her parents keeping in touch with their New Hampshire friends. Annual vacations to Overlook Cottages in Jackson, N.H., where her mother, grandfather, and great-grandmother had rocked on the front porch, included visits to the Mays, Doucettes and Freemans. Johanna was a hardy hiker, loved the cool clear water of Jackson Falls and, with her Swiss heritage, felt at home in Heidi's grandfather's cabin at Story Land.
Johanna's artistic sensibilities were molded by the verses penned by her mother and father, who made sure to expose her to the finer arts. Besides writing poetry, in her later years she created images with paint and captured hearts with her nature photography.
Johanna majored in German at Georgetown University in 1980, and earned a Masters in TESOL (teaching English to speakers of other languages) in 1985 from Central Connecticut State University. She held a masters of divinity, environmental ethics from Union Theological Seminary, serving as a sub deacon at the Cathedral Church of St. John the Divine.
From 1996 to 2005, she worked for the Episcopal Diocese, of Newark in New Jersey, as program manager for the Diocese's monthly publication, the Voice. After successful treatment for Hodgkin's lymphoma, she volunteered with the Leukemia & Lymphoma Society of New Jersey, participating in triathlons to raise funds for the Society and other charities.
She wed her soul mate Lindley Rankine in 2003. They moved to New Hampshire in 2005, buying 27 acres of pond, wetlands and thin-soiled hilly woods in Washington, building a house from which they could look down to observe the wildlife drawn by their pond.
Johanna and Lindley became friends with aquatic creatures of all kinds and though they enjoyed the hardworking beavers, they did not appreciate the dams the beavers built which flooded the couple's driveway.
Despite other challenges of the wetlands presented, Johanna christened the quiet water Beatitude Pond. It was the source of inspiration for many of her daily reflective poems.
She worked in Concord as lead English language learner teacher, for Ascentria Care Alliance, supervising teachers and teaching students from Sudan, Bhutan, Iraq, Pakistan to Afghanistan and beyond. She had a deep empathy for those whose lives had been upended by civil strife and social injustice, many of whom had spent years in refugee camps.
In 2016, she was ordained as an Episcopal deacon, serving at St. Andrews in New London, N.H., the Church of St. John the Evangelist in Walpole, N.H., and Holy Cross Church in Weare, N.H.
She served on the Washington Conservation Commission and Energy Committee, along with NH Episcopal Diocese committees.
Her social activism was woven throughout her nature poems.
"Earth sodden with/summer rain, at last!/The chatter of songbirds spilling over tree and bush,/But the raven still finds something to grumble about,/or is that just its throaty voice,/calling out for change."
Surviving Johanna are her sisters, Martha Young-Scholten (Bruce) of Durham, England; and Sara Young-Knox (Stephen) of Albany, N.H.; her parents-in-law, Rev. Lindley Rankine and Peggy Rankine of Mandeville, Jamaica; sisters-in-law Andrene (Edwin) Jones of Mandeville; Angela (Stephen) Mullings of Kingston, Jamaica; Lindley's adopted brother, Mark (Carlatta) of Montego Bay, Jamaica and Mark's children Tishura, Kai and Tyrese; nephews Nathaniel Knox and Joshua Knox (Melanie Brown); and grandnephews Everett and Douglas Knox; nephews Chad, Matthew and Johnathon Jones; and nieces Stephanie Mullings, Angelique and Georgianne Mullings.
Services are at St. Paul Episcopal Church in Concord on Oct. 7 at 2 p.m.