Elfreda P. Garland, 81, passed away peacefully surrounded by loved ones at home on Jan. 1, 2020.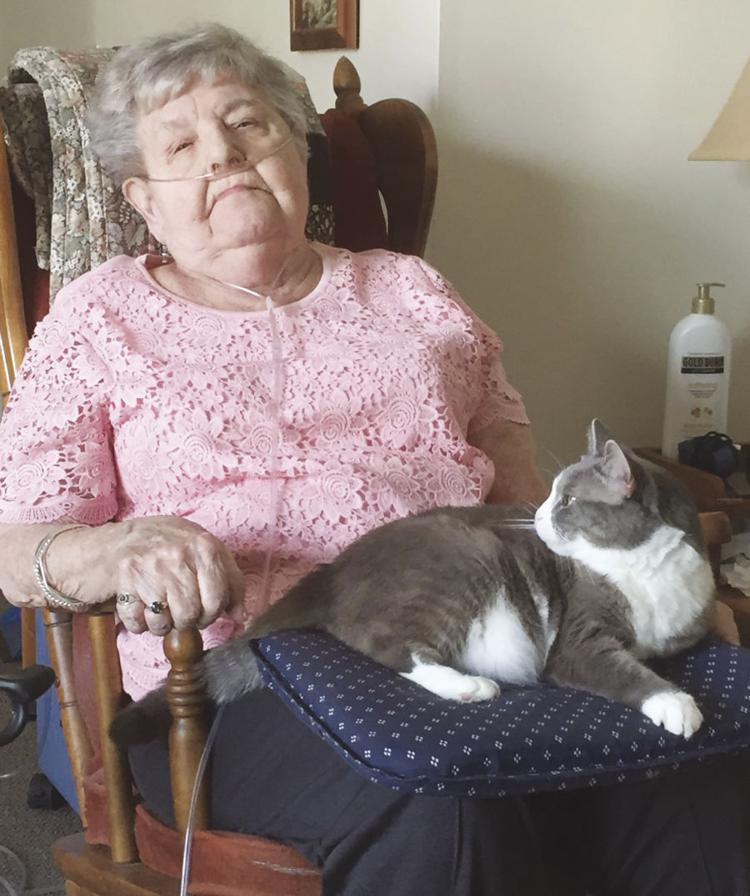 The task of condensing the essence of any life into a few words is daunting. "Freddi" was born in Boston on April 13, 1938.
She was adopted by her new parents, Averill and Gladys Pettengill when she was 8 years old and was an only child. She grew up in different towns in Mass., and her family settled in Wolfeboro, N.H., after her father left his plant manager job.
They founded Pettengill Construction and Real Estate office. She accompanied her parents as they sold, appraised and built homes around the Lake Winnipesaukee area. She attended Carpenter Elem and then Brewster Academy, which she remembered fondly her entire life.
After a year at a junior college in Vermont, she went back home to work locally at "Uncle Ed's." She then found her way to Bartlett, N.H., and "The Woodshed" belonging to Evie and Bill Gimber. It was another small cozy eatery that became family, which introduced her to her first husband, Harvey M. Tebbetts of Bartlett.
He then re-joined the Army, and before they left, they had their first child, Valerie. The Army sent them on a worldwide tour for 20 years of his service. They lived in Arizona, Taiwan, where their son Michael was born; Maryland, where their daughter Lynne was born; duty stations in Japan; Vietnam (when the family came back to N.H.); California; Germany; Vietnam again; and Massachusetts rounds out the years in the Army.
She was an amazing stay at home mom and cook, and an avid and strong 10-pin bowler for years. Retirement brought them back to New Hampshire, and she and Harvey owned a food truck that served the valley from Bartlett, and she also enjoyed working at a furniture store in Conway. She would work for years at Carroll Reed in North Conway on the floor thoroughly enjoying learning about ski equipment and meeting customers for clothing sales.
Her first husband passed away in 1979, she met and eventually married Richard A. Garland. They made their home in Bartlett. With Dick, she not only did the book work and helped in other capacities actually managing some heavy equipment time for the corporation they owned and operated as the landfill in Bartlett.
She very much enjoyed working at Jack Frost in Jackson. She always had matching jewelry to her clothes and shoes and loved to dress for work. She frequently was designated driver to and from different bingo venues with friends, and loved to snowmobile and was active in church suppers making her delicious cheesecake. Sadly, she found herself widowed again in 1987.
Some time later, she met Gene Black, most recently of North Conway, who became her loving companion for 29 years. She moved to Bridgton, Maine, to be closer to a daughter and grandchildren.
She and Gene spent many happy years going for drives, out to eat and shopping. In these last few months, he was instrumental in her daily life, driving over at least weekly ensuring she had all her errands accomplished and he survives and mourns her loss.
She is also survived by Valerie and her husband, Rick Miller, of Bridgton; grandson, Jarrod Blake and his son, Dylan; granddaughter, Erica Kollander and her husband, Forrest, and their children, Valerie and Cameran; Michael Tebbetts and his wife, Denise, and their daughter; her granddaughter, Amanda; Lynne Tebbetts and her son, Preston, and his partner, Kaitlyn and their son, Wyatt; her son, Parker has a son, Malachai with Lilith.
She also enjoyed many generations of much loved cousins from her husbands' families, who are spread across the country.
Her wish was for cremation, and a memorial service will be held at Furber and White funeral home in North Conway on Monday, Jan. 13, at 1 p.m.
Her loving cat has now found a new home with Valerie's family. As she and other pets throughout the family were adopted from Harvest Hills in Fryeburg, the family requests if a token of remembrance is desired may they direct it toward that or their local animal shelter to allow them to continue their work.
To plant a tree in memory of Elfreda Garland as a living tribute, please visit Tribute Store.