CONWAY — In a recent story on New Hampshire Public Radio entitled "Trouble on the trails: Forest Service grapples with crowds, trash and human waste," New Hampshire journalis, Sean Hurley examined the results of overcrowding on the hiking trails in the White Mountains.
According to Hurley, it's not uncommon to find 300 cars parked and sometimes double-parked along the Kancamagus Highway with many trying to access the trails for outdoor recreation on weekends.
He adds that for the first time, graffiti is appearing along the trails on rocks and trees, and volunteers have been known to pull out as much as 300 pounds of trash (including human waste) after a busy weekend.
The same phenomenon is happening throughout the Mount Washington Valley. From parking lots to recreation areas, overcrowding is creating an abundance of trash, a disregard for parking regulations and social distancing requests, plus a lack of mask wearing and a general disregard for the community that has worked so hard to remain a safe refuge for both residents and avid outdoor adventurers.
Even with the threat of a $100 fine and towing, scores of cars line River Road and West Side Road to access popular spots like Diana's Bath and First Bridge. Once the cars leave, a trail of trash and refuse remains in its place. This kind of situation is repeated in parking lots, roadsides and attractions throughout the Mount Washington Valley.
The coronavirus pandemic is driving first-timers to the White Mountains, where outdoor recreation, swimming holes and waterfalls are available in abundance.
"We carefully crafted our way through a phased opening here in the valley" said Janice Crawford, executive director of the Mt. Washington Valley Chamber of Commerce.
"The chamber took great care to be the best resource possible for the community and the visitors who come here. We've created signage reminding people to wear masks and placed signs throughout the valley reminding visitors to maintain a 6-foot social distance, and to respect our community," added Crawford.
"Yet, we continue to see and hear stories about the general disregard for good ol' American manners. It's taken us all by surprise," she said.
The chamber and its members are determined to keep the valley a safe and congenial place for visitors to enjoy time in the outdoors, take in family attractions and enjoy tax-free shopping, great dining and a wide variety of places to stay.
Local businesses have worked hard to reopen safely amid guidelines that are often restrictive, yet necessary to maintain the welfare of those who work and visit there.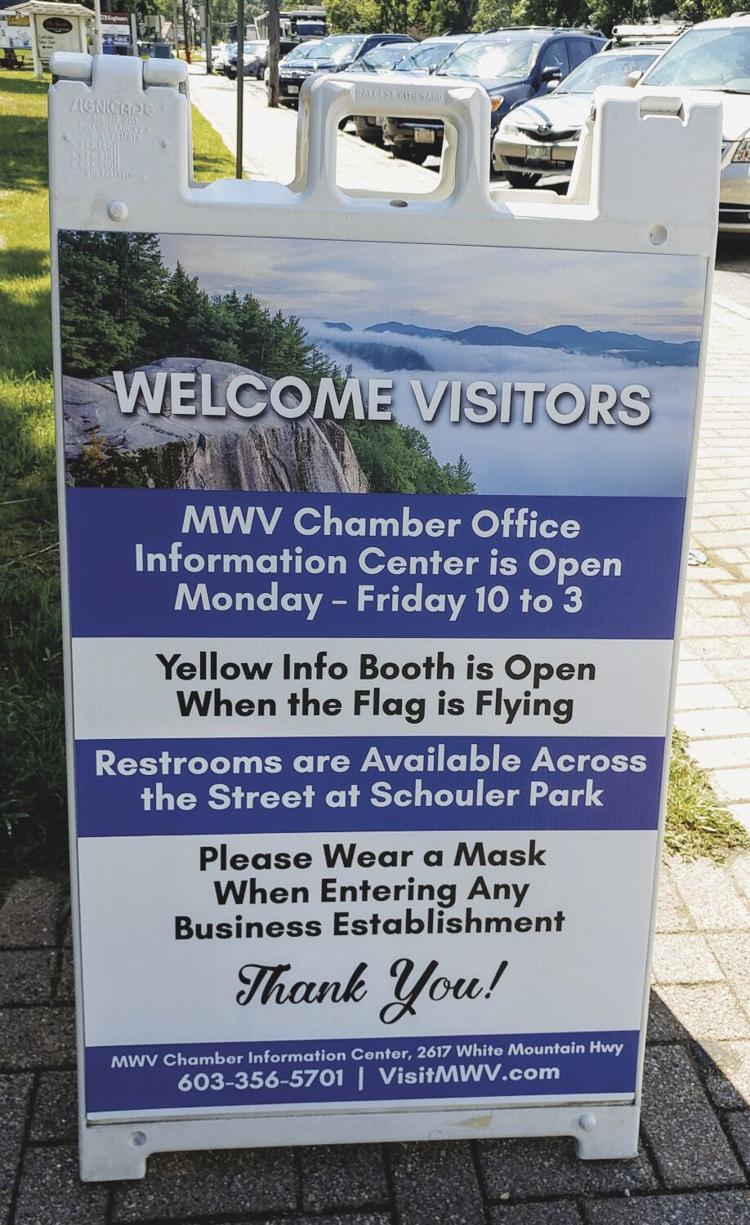 To that end, the chamber has created the following helpful primer for anyone planning a visit to the valley.
1. Make reservations. Gone are the days of walk-ins for many businesses. Lodging properties are observing time for guest rooms to "rest" in-between visitors to allow safe sanitization. New cleaning protocols mean more time to get rooms ready. Restaurants have eliminated tables and are operating at 50 percent occupancy to allow social distancing.
Even attractions are bound to limit the number of guests, so without a reserved time, visitors may not be able to enjoy time there. Bottom line: Plan and reserve your stay, dining and fun before you visit the Mount Washington Valley to avoid being turned away.
2. Show up. Once reservations are made, be sure to arrive at the appointed time. Remember, all businesses in the valley are operating under strict guidelines and diminished occupancy, so when a guest reserves and then doesn't show, it's a double loss for the business. The business can't resell that space at last minute, so it's a double loss. Also, arriving late means less time to enjoy the meal or attraction, so please plan to be on time.
3. Pack in, pack out. One man's (woman or child's) trash is not another's treasure. Visitors are asked to be prepared to properly dispose of any trash they create.
Whether it's along the trails or along the roads or parking lot of businesses in the Mount Washington Valley, all people are asked to dispose of all trash carefully and completely in receptacles for that purpose or by taking it home. Carrying a few grocery plastic bags is a very good idea for trash pickup while visiting here.
4. Wear a mask. Masks are simply a necessity to help avoid spread of the virus and a requirement at most businesses here. Bring your mask and wear it properly. Without one, it's possible entry to the business may be denied.
5. Touch it, take it. To avoid as little contact as possible, take whatever you touch. "If you pick up a brochure in our information booths, we ask you to take it with you or we'll have to throw it away," said Crawford.
6. Pack a "pandemic survival kit." It used to be that water and snacks were enough to fill a backpack when hitting the trail, but that's no longer adequate. When visiting anywhere, the following necessities should be packed for the day: mask, hand sanitizer, surface cleaner wipes, trash bags, cellphon, and the essential water and snacks too. Latex gloves are a good idea, too.
"We're counting on both the residents and the visitors to keep the valley a safe place," said Crawford. "We love our visitors. We simply ask them to remember the Golden Rule while visiting here."
For more information on careful planning with info to reserve ahead, go to mtwashingtonvalley.org or call (800) 367-3364. For more information on vacations in New Hampshire, go to visitnh.gov.
Marti Mayne is public relations manager for the Mt. Washington Valley Chamber of Commerce.