Patricia L. (Lawrence) Gemmiti, "Pat" as she preferred to be called, beloved wife and mother, passed away suddenly on Saturday, Oct. 9, 2021, with her daughter Cathy by her side.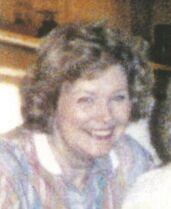 She was born Jan. 21, 1933, in Gorham, N.H., to Albert Dexter and Laura (O'Hara) Lawrence. She grew up as Patty Lawrence in Gorham where she was lauded for her ready smile, overall genuine loveliness and beautiful soprano voice — which graced the Congregational Church Choir, the Jefferson Chorus and the Honolulu Symphony Chorus, among others.
She graduated from Gorham High School where she was a member of the theatre group, chorus and tuba player for the marching band. She also attended the University of New Hampshire before marrying Donato Rocco (Danny, aka Donald R.) Gemmiti on May 31, 1952, whom she met years earlier while roller-skating at his uncle Dominic Porretta's Shelburne Inn.
Pat and Dan had a wonderful 55 years together. They had three children: Cathy, Debby and Franky Gemmiti. In addition to growing a family, they had many adventures together traveling extensively across the globe, especially enjoying the mainland United States, Hawaii, Europe and Indonesia.
During the late 1960s along with her husband and family, Pat owned and operated the Dairy Joy summer business (now Mr. Pizza). Many a junior league baseball team celebrated victories or soothed misses with their tasty ice cream.
For a time, Pat was employed as an administrator of the Title II programs at Berlin High School. Later she enjoyed designing and building several homes and lovely home lots along with her husband at their RayCrest subdivision in Randolph, N.H.
Pat's many talents included accomplishments of note in the art of painting, genealogy and most recently as author of the historical novel, "The Resilient Thistle." She was proud of her genealogy roots which she recently discovered included 12th generation lineage from Mayflower Pilgrims. She loved singing, music, playing the piano, skiing, swimming and dancing — cooking not so much — but she was a good cook, too.
She is survived by her daughter Catherine Gemmiti of Ocala, Fla.; nephew Kenneth Corcoran of Charlestown, N.H.; niece Carol LaTorre of Schenectady, N.Y.; nephew Paul Gemmiti of Delanson, N.Y.; and nephew Thomas Gemmiti of Albany, N.Y.; several great nieces and nephews plus many other wonderful friends.
Pat was predeceased by her husband Dan (aka Donald R.) Gemmiti; her daughter Debra Lynn Gemmiti; her son Francis Dani Gemmiti; her parents, Albert and Laura Lawrence; her sister Shirley (Lawrence) Corcoran of Claremont, N.H.; and her brother Albert D. Lawrence Jr. of Barre, Vt. Losing her two young children (Debby and Franky) was the great regret of her life. She held them in her heart and thought of them daily.
Pat's optimism and love of life were contagious. One of her favorite mottos was: "motion is lotion." Her wishes for family and friends are to be happy, live well, and have more ice cream!
A memorial service to celebrate Pat's life will be held in Gorham at a date to be determined.